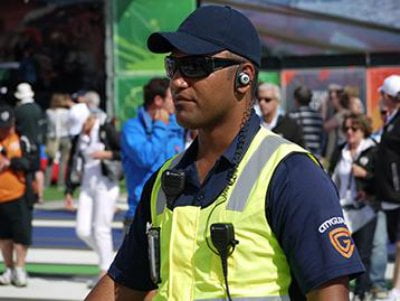 Pit safety is a crucial matter when it comes to organizing concerts and events on a large scale. Without the proper event security, things could get out of hand. Why worry when you have got the finest professional security guards in Edmonton at your service?
To shed further light on why you should hire a professional and experienced pit security team, we have mentioned the following reasons.
Performers safety
Performers are secure when there is an experienced pit crew handling the security arrangement. Acts definitely become safer when there is a good experienced Pit Crew on their gig. A good Pit Crew knows how to deal with a performer coming down to the crowd and also knows what to watch out for from the crowd and when to interject.
Safety of crew
When working in a team, each member of the crew is safe compared to acting individually. If you have to lift a person and escort him outside, it is always done in 3 man teams. So performing this task alone would be tough and dangerous both for the pit safety crew member and the person being escorted out.
Team work = key to good functioning
For instance, if one member of the team is good at observing the aspects of a crowd he/she can inform other members and they all can coordinate a course of action accordingly. This way, every team member has a certain ability they can use and the team can make the best of it by working together. "United we stand."
Lifting people properly
Lifting people from a dense crowd is tough. It can be tougher given the mindset people are in when up near the barrier and given that they'll usually likely have had alcohol all the lifting that is done, needs to be done carefully. The lifts have the potential to injure both the lifter and the person being lifted. Lifting and acting as a support to colleagues who are lifting is a skill and it needs to be taught and practiced. Only specialized Pit Crews will be used to the lifting so that it becomes 2nd nature to them.
They see everything
A good Pit Crew can see everything. It may seem like they have their task cut out for them but a professional and experienced Pit crew knows how to interact casually with the crowd and at the same time monitor everything. Pit Crew members tend to be even more observant than good normal security. In the pit, you're constantly scanning the crowd looking for signs of trouble or discomfort.
Sometimes, Pit Crews have water stations so they can dispense water to the crowd and keep them hydrated. Bet you didn't think what all goes on behind the scenes with the Pit Crew. Well, saying that they do a fine job with event security would be an understatement. Check out GPS Security group if you are looking to hire a professional event security team today.
Image source: http://cityguard.co.nz/