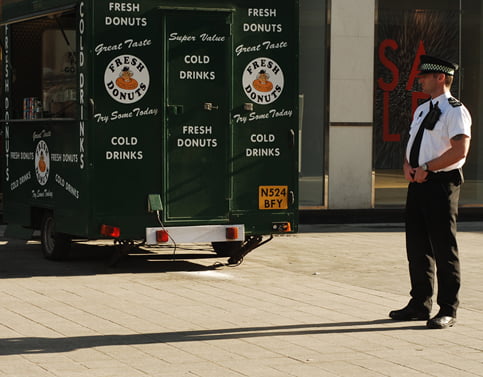 Mobile patrol guards are employed by clients for their property's security. They focus on maintaining a safe presence at the venue. It gives the advantage of making premises, like a retail store, less attractive to potential thieves and vandals. The mobile patrol guards are responsible for securing premises and appointing personnel to secure, permit or refuse entry. Apart from these, here are five top duties of mobile patrol guards.
1) Patrolling
Mobile patrol companies appoint guards to watch over internal and external premises. They keep close attention on every part of the site and be alert of high-risk or dangerous areas. They need to regard the cameras and any security device you may have installed to maintain the security in the place. More importantly, they make sure that people follow safety protocols and adhere to them in the premises.
2) Reporting
In case of any sighting, the mobile patrol guards make sure to notify any suspicious activity or hazardous items they see on the premises. Regular informing and reporting helps them to perform their activities accurately. They take proactive measures to prevent any loss or damage by using alarm systems. It subjects them to conduct rigorous preventive patrol inspections.
3) Following Protocols
Mobile patrol companies appoint guards after training the personnel in health, safety and first aid aspects. They are trained to provide guidance and support to anyone in need as part of the health and safety protocol. A calamity can occur at any moment and it is important to have trained guards ready to tackle any situation at hand. The situation can range from anything between a person fainting to an outbreak of fire or evacuation emergency. Mobile patrol guards are equipped with the means to protect lives and property.
4) Security
Providing complete security in the forms of digital and physical assistance is a responsibility taken up by mobile patrol companies. They undertake proactive security measures to prevent theft, fire, loss of life or property. Mobile patrol guards make it a point to communicate their whereabouts and any surrounding activities to specific authorities to maintain a constant flow of information. This helps in garnering a bigger security team at the earliest when a calamity arises.
5) Protect Reputation
The appointed guards are also liable to protect the reputation of your organization. They must comply with legal requirements and maintain peace and order in the premise. The visitors in the area would feel assured when they notice guards appointed for their safety. This makes it even more important for you to appoint professional mobile patrol guards for patrolling the premises.
GPS Security group's mobile patrol has a large presence in Red Deer, Calgary and Edmonton. Our professionally trained mobile patrol guards are experts in monitoring, reporting and checking any contingencies around and inside the walls of your establishment. Call us to book your service today!