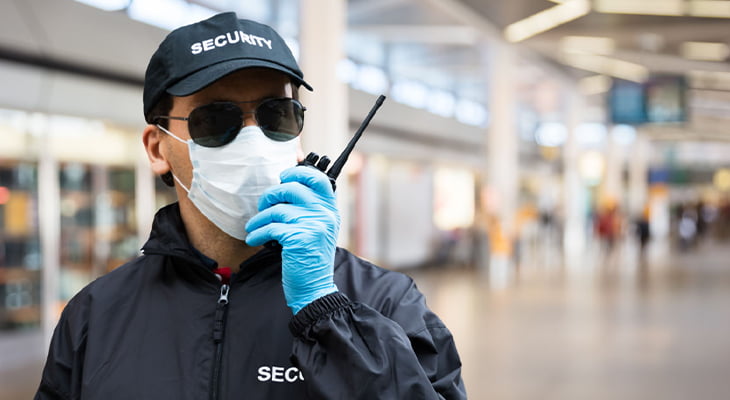 Security guards have always faced complex challenges during their demanding job. However, during the COVID-19 outbreak, these challenges have multiplied ten times a fold. This blog shares some of the top challenges security guards have had to face during these tough times.
Enforcing Social Distancing
One of the many tasks that a security guard handles during an outbreak is enforcing social distancing. People around the world are still not taking the deadly virus seriously. It becomes difficult for security guards to convince people to practice social distancing and stay safe.
It does not matter how many times you say it and ask people to keep their distance from each other; they tend to overlook it and keep on doing what they want. Controlling people in large numbers and especially those who don't realize the situation's seriousness, is challenging for security guards.
Recognizing Faces With Masks
When so many people are wearing masks, it becomes tough to identify and recognize a particular person. This is one of the challenges security guards have to face during their everyday life in this COVID-19 period.
Criminals, thieves, and burglars can easily sneak in without being recognized. Professional security guards need to be able to pick one covered face out of many, especially when all the faces are semi-covered due to the viral disease.
Avoiding Exposure To The Virus
Security guards need to deal with many people while on duty. It is a part of their job to check people coming in and going out of the premises. In doing that, they need to be in close contact with everyone. Security guards need to be a hundred percent sure that they follow the SOP's themselves and not contract the virus.
They need to take precautions very seriously and stay safe. This is the only way they can continue their job and keep other people safe too. Taking care of the virus and handling criminals trying to break in is a challenging task. Only highly trained and skilled security guards will be able to multitask and not compromise on any responsibilities they have.
Protecting Their Families
Security guards also have the responsibility of protecting their family members. If they remain careful they can ensure that their family also remains safe and secure from the virus.
Security guards have to show responsibility for the sake of their family's health and well-being. During their duty hours, they need to keep themselves away from close contact with others and keep disinfecting their hands, clothes, face, and the things they use.
By taking care of their cleanliness, they can protect their family members' health and lives. Moreover, if they don't follow the rules to themselves, people will not take their orders seriously. The public will be less likely to obey what security professionals ask them to do.
Ensuring Coronavirus SOP's
The most formidable challenge for a security guard is to make people follow standard operating procedures prescribed by health organizations. The guards must have the strength and power to make people agree to do what you try to impose on them.
Security guards have permission from authorities to do what is needed to enforce safety rules.
GPS Security Group offers the best security guard services at the most affordable rates. We take pride in continuing to serve you during these challenging times. We continue to do our best because we realize how vital you and your building's safety is for you. To get in touch with us, click here.