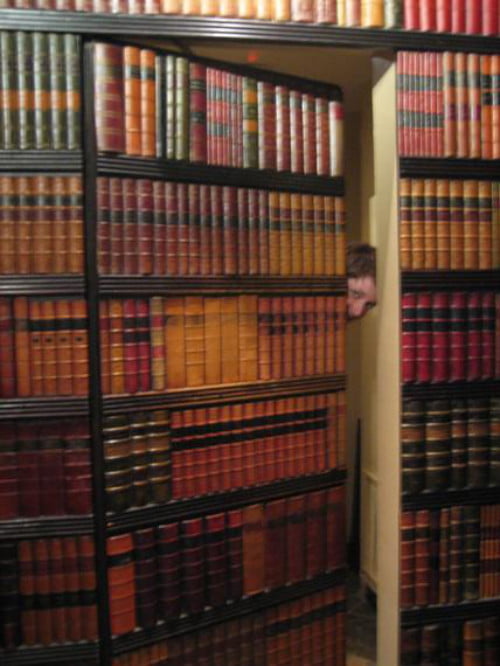 You see the kids playing hide and seek around the house. You start thinking what if you really had secret hiding places in your house which would aid in the safety of residents whenever the need arises. God forbid it doesn't. So you can build the best hiding places in your house at your convenience or you can always consult professionals. Check out the following ideas for creating
secret hiding places
in your house
A Secret Door Bookcase
You have always fancied having a bookcase leading to a secret or existing room just like the grandfather clock that leads to the batcave. If you have the space available in your living room or wherever in the house, this an extremely detail oriented but functional and creative idea. You need to get everything worked out prior to beginning it. The carpentry, the mechanism and the hardware all of it needs to be rock solid.
Secret Entrance Doors
The best way to beat burglars at their own game is to
build a secret entrance
to your house. It would be hilarious if someone planned to rob your house one fine evening and when they arrived they're unable to find an entrance or a back door to your house. Secret entrance doors have served their masters well I would say in such a scenario. You can always get the required material for a simple door entrance at your local supply store and do it yourself. There are a lot of guides on the internet on how to go about building a secret entrance door which camouflages in the background of the house like the one seen below.
Hidden Garage Doors
If the bottom floor of your building has a lot of storage room and utility space, you could always make some changes without altering too many things to the basic structure and create a hidden door and turn the dark dusty area into a parking space for a few cars. Get the help of a professional to get the structure sorted out and to consider all the things before setting out on building a hidden garage door.
Library Door Automatic Room
In your bedroom, you always thought of building a bookshelf which could be a secret door possibly leading to a connecting room or into the attic. Again it would need the hands of an expert craftsman and a well thought out mechanism. Best hiding places in the house will come to you as and when you let your imagination run wild. Watch your kids play, think about which could be a place where you could really hide or enter in case a burglar entered your house to keep yourself safe.
Security at home
is always a concern and by using these few ideas we think you can take it to the next level.