24/7 Video Monitoring:
GPS Security Group offers a 24/7 video monitoring service to its commercial and industrial clients throughout Alberta, British Columbia, and Saskatchewan. The primary advantage of an online surveillance system like this is that it is operational around the clock. Our real-time video surveillance system allows a single person to man several screens simultaneously. This eliminates the need for deploying a security guard in every room, floor, or premise/location. You can catch an ongoing suspicious or criminal activity on your security camera and help investigation agencies find the culprits.
Remote Surveillance
This is another powerful feature offered by GPS Security Group that allows our clients to conduct remote surveillance across Alberta, Saskatchewan, and BC. It enables you to access your video even when you're not on-site. You can receive security alerts and images by SMS and/or email from our automated surveillance system.
Remote Cam
This smartphone app allows you to view a live feed of your complete surveillance system anytime from your cell phone or tablet.
False Alarm Detection
Many companies face false alarm issues at their facilities, resulting in wasting crucial time on unnecessary investigations. False alarms can be caused by bugs, trees/leaves, shadows, reflections, lights, wind, and weather conditions. GPS Security Group uses Advanced AI technology to reduce the number of false alarms significantly. Our advanced AI cloud-based false alarm filtering technology reduces false alarms by up to 90%.
GPS Security's video monitoring software focuses on triggering true alarms. This includes real human activity, like identifying a person walking through a construction site, a man carrying a flashlight from a distance, vehicle movement on-site or within the area of interest, and additional related activities.
Our video monitoring software also focuses on filtering out false alarms. This includes changing weather conditions, like lightning, animal activity, vehicle movement outside the area of interest, and other related activities.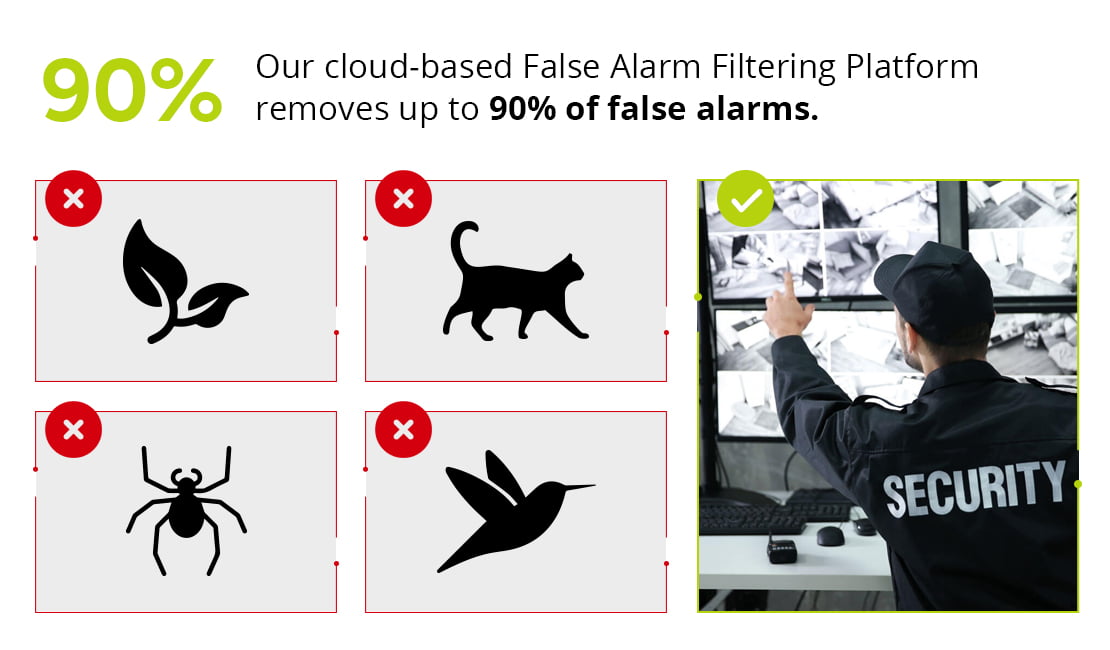 Overall, GPS Video monitoring and surveillance can integrate with other software, which offers the following capabilities:
True Alarm Detection
Filtering out False Alarms
Face Detection
Identifying Customer Counting Table
Crowd Detection
Time Analysis of Queue Management
Perimeter Monitoring
Intrusion Detection
Vehicle License Plate Identification
And More
For more information on our specialized video monitoring systems, contact us today.
We Provide A Full Range of Security Services
Contact Us For A Free Consultation Today