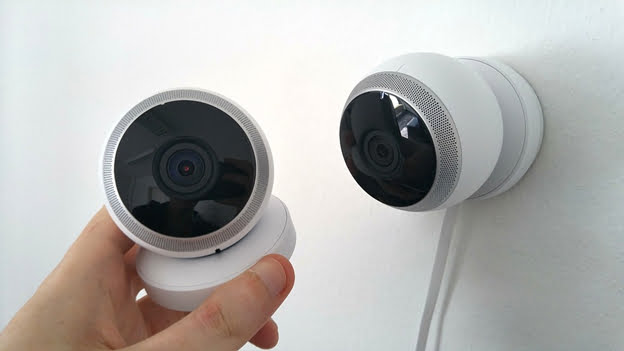 Securing your home with wireless security cameras is a great decision. However, in the process of buying home security cameras, you must consider the following aspects and compare the options available to you.
Camera Types
First things first, consider the type of security cameras available to you and the one which you should buy. Some of the common types of cameras include:
Dome cameras: These are the ceiling-mounted "eye in the sky" type security cameras. 
Bullet cameras: These may resemble a tube of lipstick, though some more robust models are the size of a soda can.
Field of View
Once you've decided what style of the camera will suit your needs, you'll want to determine how much you want your security cameras to see. The field of view of a security camera, also called the viewing angle, is the area that the camera can "see". Since it's probably guarding a single area, room or point of entry, a larger field of view is generally more desirable. 
Useful Features
Apart from the usual features of security cameras, you must also consider other additional and helpful features that different brands offer. Features like alerts, night vision, two-way talk, waterproofness, motion detectors, image stabilization, etc. are some of them to look for. Security cameras that have such features are automatically smarter than the usual cameras, and these will provide better home security.
Storage Capacity
Today, vast amounts of data can be stored in small spaces. Not all video storage is created equal. Some of the storage options available include memory cards, hard drives, remote and local storage, and cloud storage. There's cloud storage, which sends your video footage to a remote server, and local storage, which relies on a separate accessory, typically a microSD card, to hold any footage you'd like to save.
Network Connectivity
You must also check on what network your security camera should work. The majority of security cameras today operate on your home WiFi network. If you have a good and continuously working WiFi connection, opting for these wireless cameras will be a good option. If not, you can always choose cameras that function on cellular data. 
Phone Accessibility
One of the best features that modern security cameras have is the ability to view the camera footage live on your mobile phone. This means that you can keep an eye on your home even when you are away. But this is possible only when you choose a security camera that has phone connectivity and accessibility. Your camera should let you view a live video feed on your phone wherever you have an internet connection.
Another thing you must consider is the brand of security cameras. Don't choose anything that isn't reputed or known. Or you can hire GPS Security to help you out with the process of buying a wireless home security camera.