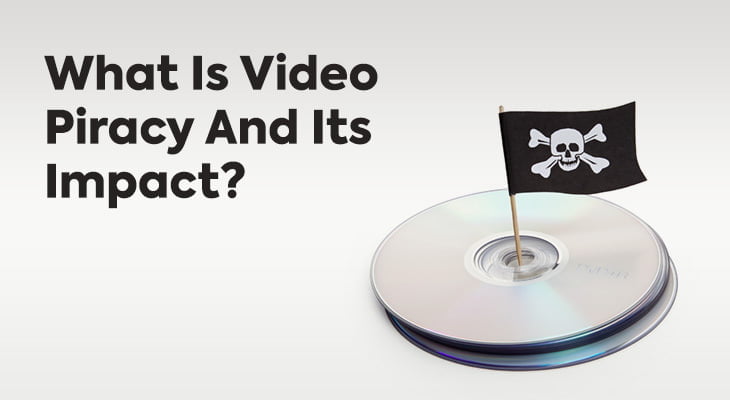 Movie piracy has always been a problem. Previously they were being stolen in cassette tapes and now, the problem has increased manifolds after digitalization. If you are a business that deals with video content, there are ample chances that your rights are being infringed and you are losing a lot of revenue. Piracy and illegal streaming cost the film industry $28.9 billion to $70.1 billion in terms of revenue every year. Talking about global bandwidth, digital piracy accounts for about a quarter of the whole bandwidth.
Content creators put in a lot of creativity, innovation, and effort to come up with appealing content. The shows you binge watch on Netflix take months and years to produce and involve a lot of money as well. Nothing is more of a bummer than putting in all this effort just so that your content is downloaded for free. Sometimes the revenue is cut when users share their credentials with others and a single account is used by many consumers.
This blog explains the process of movie piracy and the impacts it has on the creators and industry. If you are worried about the security of your content and products, hire a professional Cyber and Online Security firm that can help you protect your data and technology infrastructure.
How Does Movie Piracy Happen?
Video piracy happens in two ways. It may happen due to credential sharing of content or video downloading. Piracy leaves a negative impact on revenue whether it is the piracy of movies or eLearning content. Users will definitely opt for free content if they get a chance to.
Some of the ways by which you are losing new potential customers and revenue include:
Credential sharing
If anybody is given a choice they would probably choose not to pay if they can get something for free. If you are a content creator, your work is a source for you to earn your bread and butter. Credential sharing happens on OTT platforms and streaming sites like Netflix, Amazon Prime, Hotstar, Disney, and others.
To put credential sharing into simple words, it is when a user shares their password and username with friends and family and streams without paying for extra bandwidth and users. Sometimes credentials are shared with strangers to swap various subscribed services. Thus making piracy security an essential aspect for a content creator's rights safety.
Apart from credential sharing, there are other ways to infringe the video content by illegally getting access to the accounts credentials. Some of them are;
Password Sharing: when an account is hacked. These accounts are sold further to pirates.
Endless Trails: this is quite popular with mischievous users. They create fake accounts using different credit cards to access the content for free. These accounts are sometimes resold as well.
Token Theft: streaming apps and the web use tokens to identify their users. These tokens may be copied and used by pirates again to access the content.
Video Downloading
A large number of tools are available online that make video downloading an easy task. They can enter the URL in the tool and download the video which makes the video available to be used on pirate resources.
Most video streaming platforms use encryption to protect their videos. But not much attention is not paid towards the protection of content. This makes it easy for pirates to decode the encryption key and convert the content back to its original form from encrypted type. Pirates not only copy your content they also target storage platforms used by different platforms. This makes it easier for pirates to gain access to content that has not been released.
The following table details some downloading platforms and their number of users. This shows the stronghold of pirates on video downloading piracy.
| Platform | Users | Source |
| --- | --- | --- |
| Savefrom | 40,000,000 | Alexa |
| Keepvid | 25,000,000 | Alexa |
| All mytube wondershare | 25,000,000 | Website |
| Video Download helper | 4,100,000 | Website |
| Internet download manager | 3,500,000 | Alexa |
| Total User of 5 sites | 97.6 Million pirates | – |
Impact Of Content Piracy
Various studies from Digital TV Research show that the losses for the global content industry will rise to $52 billion along with massive GDP losses. Talking about Canada, C$ 1.8 billion is lost due to content piracy across the Canadian economy.
With a lot of research and surveys, on the impact of piracy on the economy people have started understanding the deeper impact of video piracy on employment and creators' confidence as well. Moreover, piracy has started impacting the licensing laws and regulations that are the backbone of the digital industry. The reason is easily understandable, why would the distributor spend heavy amounts on rights attaining when the content is readily available for free on the pirated sites.
Hence like any other illegal activity, watching paid content for free has a deep impact on economies, industries, and transcends to individuals.
About Us
GPS Security Group is always at your service to provide effective and prompt security services regarding multiple industries. We are one of Edmonton's best security companies that can help you secure and investigate the cases of content piracy and save you from monetary and copyright losses. If you are looking to hire a professional security company for your piracy investigation, let us know here.