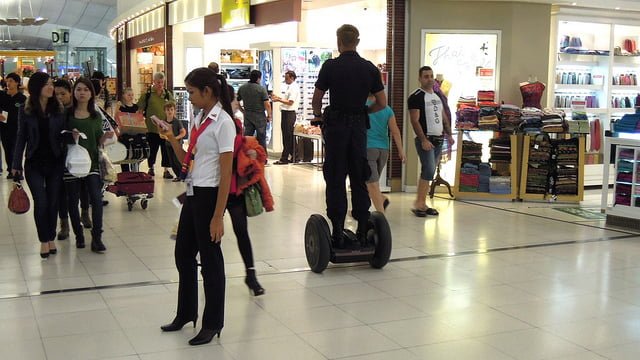 A shopping mall is one of the most crowded hubs where people in large numbers visit on a daily basis for various reasons. Shopping malls have various stores, food court, large parking areas, restrooms, movie theaters, etc. that could be exposed to several criminal activities like theft and vandalism without proper security systems and guards. It is important to ensure the safety of the valuables in the mall stores as well as the workers and daily visitors. There are many different types of security systems that can provide security to the regular flow of inventory, money, and people.
Video Surveillance
It is important to monitor and record the activities happening in all the parts of the shopping mall to avoid any criminal activity, mishap, or medical emergency. Different close circuited (CCTV), bullet, and dome shaped cameras are available in the market with a wide variety to choose from. These cameras cover various angles and are connected to a monitor room. This monitor room contains screens where the monitoring staff can keep an eye on the overall happenings. This can help monitor potential criminal activities and identify the criminals.
Security Guards
The security guards at different places of the shopping mall not only provide security but also keep an eye on any kind of suspicious activities. There are essentially two types of security guards – static, who are the traditional security guards, and the mobile patrolling security guards, who keep patrolling in the different shady parts of the mall. The static ones stay within a limited area of the mall and focus on maintaining order in their area. They provide help to the visitors and restrict unwanted entry if necessary. The mobile patrolling security guards, on the other hand, move around the shopping mall premise in vehicles that are equipped with GPS tracking and rush to the mall in case of emergencies. These security guards are trained and well-equipped.
Fire and Healthcare Safety
A shopping mall is a public place that is always at the risk of catching fire. A fire outbreak can result in an enormous amount of loss to the goods and lives. A fire safety system with adequate fire extinguishers and fire watch security guards is necessary for maintaining safety and security in shopping malls. Also, it is important to have first aid CPR security guards in the mall premise to handle medical emergencies.
Mall Event Security
Several promotional events happen in the shopping mall premises like in the main center area, parking area, or other spacious parts of the mall. Like any other outdoor or indoor event, special security is essential even during such mall events and activities. The event security guards take care of the overall crowd and venue premise safety. яндекс
These types of security systems and services deter crime and prevent criminal activities. They also keep a check on employee and visitor activities and increase customer security in shopping malls. If you are a management personnel of a mall, secure your shopping mall using a range of Edmonton security systems and services offered by GPS.