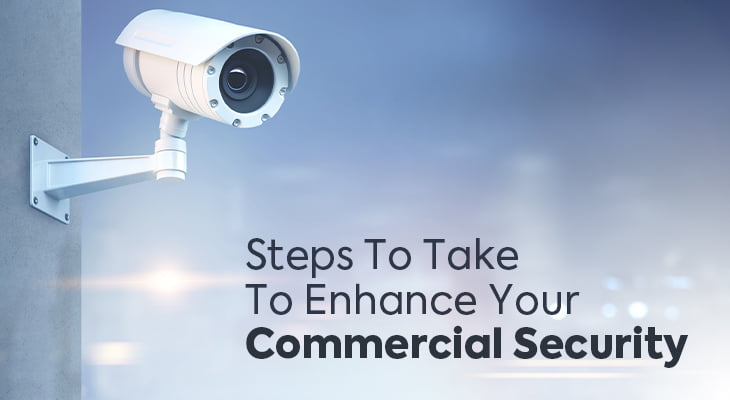 The fear of things being stolen is always there when you start a new business. If your business is too vulnerable, it increases the chances of threats. Small companies are often common targets because they usually don't take the proper steps to provide security to their business. They are more likely to become victims of theft, cyber-attacks, and burglary.
Therefore, having a commercial security plan must be the foremost thing for your business. It's essential to get your security plan right and inform you of the various steps you can take to enhance your commercial security. Below we mention a few steps that you could take to improve your businesses commercial safety. These steps apply to both big and small businesses.
Assess Your Risk
The first step toward a successful security plan is to assess the possible risks that you can encounter. This risk assessment will help you in devising the most effective plan. Check your current security conditions and identify potential threats that can occur. You can also seek local advice and see news of the areas around you to know about the current security situation.
Check Possible Entry Points
This one is an extension of the first point. You must do threat analysis and check for any easy entry points for your business. A threat analysis will give you an idea of possible entry points and potential vulnerabilities.
Every possibility must be considered that would help to install the most suitable security system. Also, check for ways on how your customers can steal your products because intruders are not always apparent.
Contract With A Security Firm
Many people think that they can install cameras and other security devices themselves. However, the expertise that a security firm gives is invaluable. They can look for possible vulnerabilities and ensure that everything is covered.
There are many security firms out there that can help you plan your security measures. You can contact them and avail their services for a regular check-up of your security system.
Install CCTV And Alarm Systems
Alarm system monitoring and video surveillance cameras are essential in providing a complete security overview of your business premises. They are the most useful security systems, and provide high-quality video that can give you enough evidence to find the intruder.
Changing codes on a regular basis and keeping the team updated about it is also important. Moreover, assign your security team the task of continuous monitoring of cameras to detect any suspicious activity as soon as possible.
Invest In Data Security
Investing in the commercial building's physical security is one thing; you must also consider protecting your data from ransomware and cyberattacks. Cybercrimes are on the rise, and investing in good antivirus and firewall systems can protect your data.
Attackers find it easy to attack small businesses as they don't have implemented smarter security solutions, usually in the initial stages of the company. If your system is secured with cybersecurity, hackers won't spend much of their time breaching it.
Train Your Employees On Security
Training your employees and creating a sense of securing the business is crucial to make the business work. Educate your employees about the possible threats to the company and how they can play their part in protecting it. You can direct them to maintain a safety routine during the opening and closing times of your business.
Ask your employees to keep their money, laptops, cards, and other essentials in inaccessible areas. They must lock the doors when working after hours or alone. There should be a security guard at the entrance of the office as well.
Keep An Eye On Your Vendors
Perform security checks on your vendors too. Try to deal with them in an area where there are CCTV cameras installed. Perform security checks, check credit card history, check their activities, and monitor their movement with a security cameras' help.
Shred Documents
Some documents are no longer useful but can cause security issues for you if someone else sees them. Invoices and customer quotes are among the essential documents that you must shred and not leave around.
Commercial security is the backbone of having a successful business. Apart from taking security steps on your own, you can also trust a security company to effectively secure your property and look out for any possible vulnerabilities.
GPS Security provides you with the most secured security solutions for your small and big business. We have a dedicated and hardworking team of professionals who work day and night to give you the most secure experience. contact us today and avail our multiple security services.