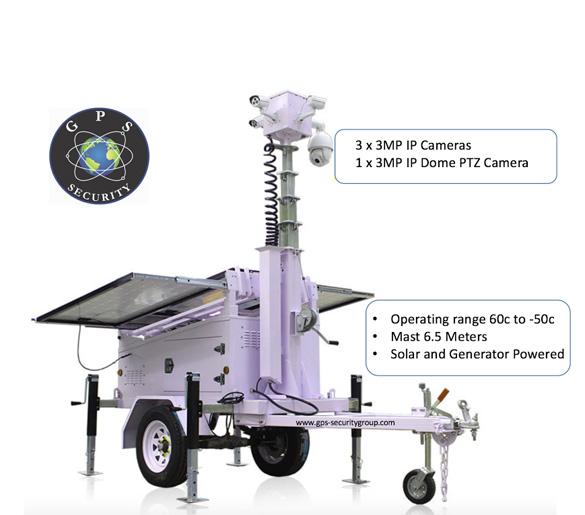 Having an effective security solution for your property is necessary for you to have the peace of mind. Alberta security service providers use various security systems such as video monitoring, alarm response systems, fire watch security guard services, mobile patrol security guard services, first-aid CPR security guard services and others to keep you and your property safe. The mobile surveillance units (MSU) provide maximum supervision and coverage Mobile surveillance units are basically trailers with advanced CCTV cameras. They provide additional security coverage to your property. It is a high-tech device which can prove to be a great addition to your existing security system.
How are the Mobile Surveillance Systems offered by GPS different from other Alberta Security Service Providers?
Almost all Alberta security service providers offer mobile surveillance units. The one offered by GPS Security is known as the 'MSU Hybrid'. It runs on solar energy and provides a flexible, eco-friendly and energy efficient surveillance solution. The solar batteries are recharged with a diesel generator installed in the unit on cloudy days. MSU Hybrid can function up to 4 months in summer without refueling and up to 2 months in winter.  When combined with the mobile patrol service, mobile surveillance units form a very good security cover for people.
Where are these Units Used?
Mobile surveillance units are mainly used in industrial areas such as construction sites, electrical utilities, oil and gas sites, pipeline construction, mining sites, factories, and laydown yards. MSU enables you to see your surroundings and check for any unwarranted activities. With mobile surveillance units, you can watch live feeds on your mobile phone or tablet. MSUs are a good option at construction sites where one needs to monitor a large area from a great height. MSU Hybrid consists of solar panels and gas generators which allow maximum portability. You need to carefully place the MSU in strategic locations so that its lens can capture maximum part of your surroundings and avoid visual deterrence.
There are other security service providers who offer mobile surveillance units. If you are on the lookout for improving your existing security system with a mobile surveillance unit then contact us at the earliest.