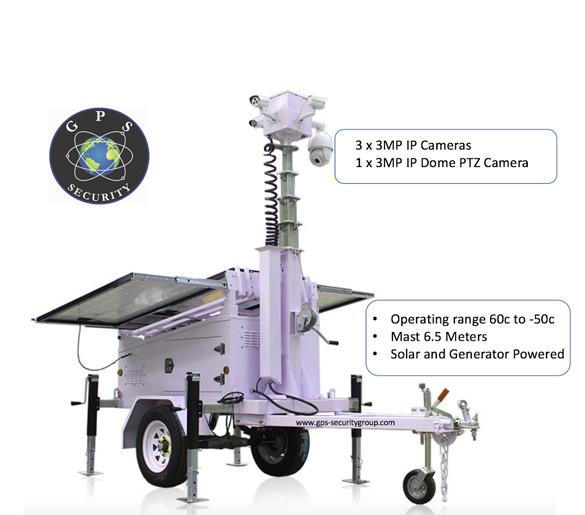 Mobile surveillance trailers are security systems which are designed to give you visibility wherever you need. Unlike conventional video-monitoring systems, mobile surveillance trailers are not stationary. They can capture footage across locations by moving around. The mobile surveillance trailer offered by GPS Security is known as MSU Hybrid. It is an environmental friendly surveillance solution as it works on solar energy. This mobile surveillance unit has eco-friendly, diesel generators to recharge the batteries during cloudy or rainy days. These mobile surveillance trailers are used across various business sectors. Some of them are:
Construction Sites
Every year construction companies face losses worth millions of dollars due to theft and vandalism at construction sites. This calls for effective security solutions at construction sites. Our mobile surveillance trailers are an essential component of the security solution we offer to our construction sites. It provides flexibility to temporary remote video surveillance systems. Mobile surveillance trailers are easy to deploy and are remotely monitored with IP HD cameras. It can record footage of up to six months at one go. You can get maximum protection by adding mobile surveillance trailers to your current static or mobile security program.
Oil and Gas Sites
The Oil and Gas industry is known to have a lot of volatile areas where surveillance is required. It is a tightly regulated industry and faces a lot of surveillance challenges which include explosive areas, corrosive conditions, safety and security related alarm systems and remote monitoring. Increasing fuel costs, injury risks, and external threats demand highly sophisticated security solutions. GPS Security provides security solutions to the oil and gas industry. Our mobile surveillance trailers are an essential component of the security solutions we offer for our oil and gas industry clients.
Factories
Mobile surveillance units are also useful in securing warehouses and manufacturing units. These are areas where theft and vandalism can take place, causing losses to the company owner. Factories usually have expensive equipment, finished goods and other company resources which can be stolen or damaged by an external entity or by someone working in the factory. Our advanced security solutions provide full protection from all possible criminal activities and accidents. Mobile surveillance units ensure that all the areas of the factory are secure. These surveillance units are extremely portable as they consist of solar panels and gas generators.
The other places where mobile surveillance units are used are in mining sites, pipeline construction sites, laydown yards and electrical utility sites. These can prove to be a great addition to your existing security system. Reach out to us to know more about mobile surveillance trailers. We offer one of the 
best Edmonton security solutions
.