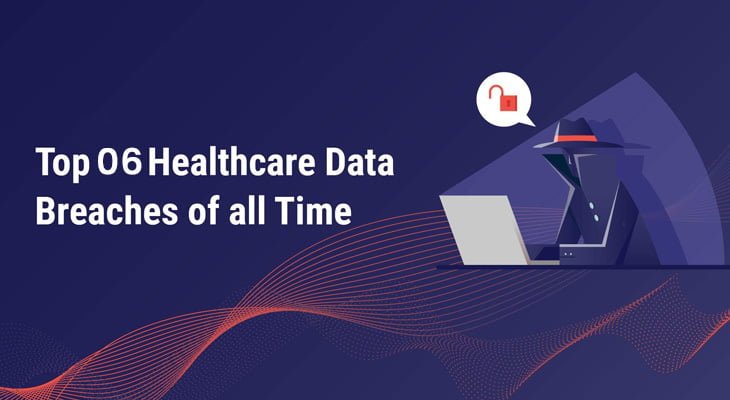 The number of cyberattacks in the healthcare industry has dramatically increased in the last few years. As a result, it has become important for hospitals and other healthcare-related facilities to rely on professional healthcare security service providers that can implement the best cybersecurity practices.
In 2021, healthcare data breaches hit an all-time high and impacted over 45 million people. This number shows that healthcare-related cyberattacks have the potential to affect everyone in one way or another.
Let's discuss some of the biggest healthcare data breaches of all time to fully understand their impact and the significance of healthcare security services.
1. Premera Blue Cross
Premera Blue Cross was a victim of a cyberattack in 2015. This attack exposed the medical information of over 11 million clients. A lot of sensitive information was exposed, including bank account numbers, social security numbers, date of birth, and other important data.
2. Newfoundland And Labrador
Canada saw its worst healthcare attack in 2021 when the entire Newfoundland and Labrador healthcare system was severely disrupted. The attack led to the delays of thousands of appointments and medical procedures, including non-emergency appointments.
The security breach was specifically a ransomware attack in which the goal of the hacker was to get control of the system, get money, and only hand back the control when the money was received.
Also Read: Top 5 Critical Aspects Of Cyber Security Companies
3. Anthem
Anthem was attacked in 2015 through a phishing email. It caused the organization's data to be leaked and exposed the personal information of over 78 million people, including personal addresses, birth dates, medical IDs, and employment data.
A lot of the patients sued Anthem, and the healthcare provider agreed to pay a total amount of $115 million to resolve the litigation. Moreover, Anthem was ordered to implement high-level data security policies throughout its working procedures.
The complexity of cyberattacks has greatly increased, making it important for healthcare providers to rely on professional healthcare security services . These services can help you implement reliable cybersecurity protocols to prevent data breaches and other types of cyber attacks.
4. Trinity Hospital
Trinity Hospital is a large-scale healthcare provider. It uses a popular cloud-based customer relationship management software from Blackbaud. In 2020, Blackbaud was affected by a ransomware attack that also affected Trinity Hospital.
The cloud servers of Blackbaud had sensitive information about millions of patients. According to official records, over 3 million people's records were exposed due to this data breach.
5. LifeLabs
LifeLabs is the largest lab network in Canada that provides a wide range of laboratory testing and diagnostic services. A sophisticated ransomware attack on LifeLabs caused the information of about 15 million individuals to be exposed. Most of these individuals were based in British Columbia and Ontario.
6. Ontario Hospitals
Another significant ransomware attack in Canada was in 2019 when three Ontario hospitals were all affected by a cyberattack within a few weeks. It caused great concern among patients as hospitals were not quick enough to provide complete information about the attack.
After a few weeks, it was revealed that the malware, named 'Ryuk,' was responsible for the attack. This malware was capable of residing within the system and the IT network for months without even alerting the users. As a result, it was able to collect a significant amount of information about the organization and the company's working procedures during this time.
Ryuk locked the important files on the healthcare system network and demanded significant ransom. This attack caused great disruption throughout the affected hospitals as the medical staff was forced to turn to paper and note all of the patient information.
Experts were of the opinion that a lot of information might have been stolen by this attack and other Canadian hospitals were also likely to be facing this similar malware. Nevertheless, hospital officials said that no data had been leaked or accessed by the cyber attackers.
About GPS Security Group
GPS Security Group is a reliable Canadian company that provides all types of security-related services. Our team of experts offers reliable, efficient, and cost-effective security solutions, including modern IT solutions for the healthcare industry.
We have dealt with a wide range of security issues and implemented the best solutions to deal with them. Therefore, if you want to get the benefits of our experienced and effective security services, you can contact us at any time.