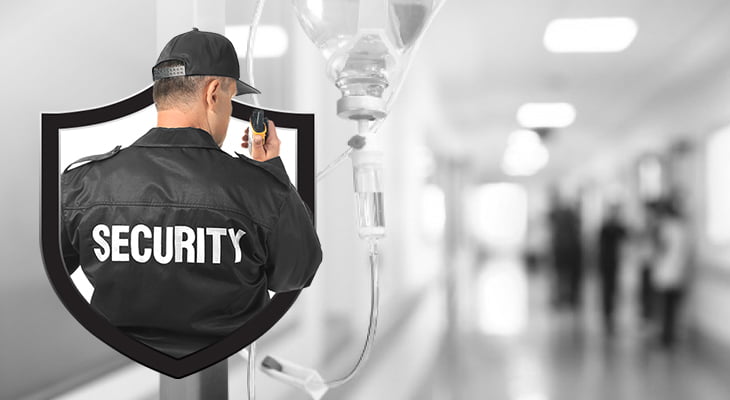 Healthcare security services are a crucial and valuable offering of a security company. Security companies protect all types of businesses and places in the city. Security hazards can happen anywhere. The only way to prevent risks from happening is to remain ready for them all the time. This is what a security company helps you achieve.
Theft
A healthcare facility has expensive equipment, medicine, tools, and gadgets that vary primarily in sizes, shapes, and cost. It is viable for thieves to target such a facility and get their hands on any of these items.
With professional security guards hired and dedicated to the right areas such thefts can be minimized and eliminated.
Angry Attendants
Blood relations involve emotions. The ones whose loved ones are sick and under treatment inside the hospital or a health center are in a tense state of mind. If anything terrible happens to the patient, the relatives, attendants, and visitors can start acting angrily.
This can create quite a scene. Security guards must assist the hospital management in controlling the situation and preventing it from becoming complete chaos.
Emotional Reactions
Emotionally charged people can be strange. Security guards must be able talk to the people within a healthcare facility in a way that doesn't offend them. When they speak rudely to someone who has already received a shock, it may result in a bad situation.
Experienced security guards will know their role and how to keep things under control in all kinds of circumstances.
Crowded Pathways
A key thing for security guard services is to keep people, vehicles, and equipment from crowding pathways, corridors, roads, and other crucial areas.
Crowded places can disturb the operations inside a hospital. Health care security services enable the security guards to keep things in order both inside and outside the building. It can avoid accidents, delays, and other problems that medical staff may face.
Hindrance To Doctors
Inside the premises of a hospital or a clinic, there must not be any hindrance in the doctors and paramedical staff's way. Patients are waiting for their doctors to arrive on time, and any delay can cost a precious non-replaceable life.
Security guards on duty play their role in keeping any blockages out of the way. They ensure there is nothing in the doctor's way that may prevent them from reaching their patients.
Enabling Quick Actions
Suppose the security staff is taking care of all the things mentioned above. In that case, the medical staff and doctors can be quick and brisk in their actions. Such a facility must have everything in place and in the correct order to ensure swiftness.
Trained security staff keep their eyes on every corner of the building, and report anything wrong. Reporting something as soon as it happens to ensure immediate action to fix the problem.
There Might Be A Murderer Around
It is quite a possibility that a patient who came in got injured in an attempt to murder. In such a case, the murderer might still be following the victim to finish the job. Only highly trained professional security staff can counter such a dangerous element.
A healthcare facility needs security services to prevent any criminal activity and make things run smoothly and in an organized manner. Healthcare security services are mandatory for the safety and protection of patients, visitors, paramedical staff, employees, and the equipment and tools present in the facility.
GPS Security Group offers the most reliable security services for all kinds of buildings, facilities, and occasions. We strive to minimize the crimes and loss of property to building owners and event organizers. To get in touch with us, click here.