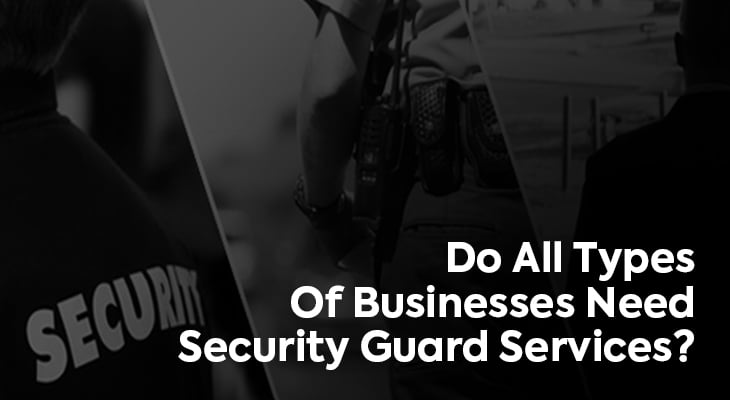 Yes, the need for having security guard services is not dependent on the type of business or the nature of products and services you offer. Whatever sector you are from, you need to have a professional security company looking after your property and belongings 24/7.
This blog shares some of the vital areas of businesses that must hire a security company.
Construction Security
If you are a construction company, you must have security personnel to prevent thefts and stealing. A construction site usually dumps construction materials and other things in bulk.
The absence of any security plan can invite anyone to act upon their evil intentions. In addition to theft, an under-construction building can become a hiding place for society's criminal elements. There must be security guards to protect such facilities all the time.
Healthcare Security
Healthcare facilities also need professional guardians for several reasons. They can protect the facility and help in the smooth running of operations by managing things inside and outside the building. They can also ensure nothing happens in the parking lot and keep law and order inside the facility.
Healthcare facilities need a security mechanism to keep an eye on who is coming in and who is going out. The patients, relatives, and attendants must remain under observation all the time. It ensures that there are no missing patients or any valuable belonging.
Bankruptcy Asset Protection
When the owners of any property go bankrupt, there is a need to safeguard its assets. Security guard companies appoint professional guards to ensure no one tries to capture or misuse the building/property in any way.
The defaulter may try to capture or damage the property, so there has to be professional security set up to avoid such an incident.
Retail Security
Retail stores need more security because there are more chances of shoplifters entering the outlet, pretending to be customers, and seize on any opportunity they get. A professional security company must ensure there are no blind spots where criminals and thieves can hide and execute their criminal acts.
Security professionals need to have a state of the art surveillance and security mechanism in place. The use of technology like high zoom cameras and a modern monitoring system will enable them to stop crimes and catch criminals through aided investigation.
Oil & Gas Security
One of the most valuable businesses or venues to protect is oil and gas facilities. These two natural resources are the top most valuable ones in the world. There is a need to protect these areas so that there are no chances for someone to execute an organized crime.
These places are more likely to be victim to terrorists and organized groups operating at higher levels. Security guards performing their duties at oil and gas facilities must have the required training to handle high profile criminal acts and even terrorist attacks.
Cannabis Marijuana
Cannabis Marijuana can be another asset for security companies to protect. In many areas of the country, limited growth, use, and possession of marijuana are legal. People who are marijuana addicts may attack such a place to steal it and use it illegally.
It is critical to maintaining law and order related to marijuana use in society. A security company must keep a vital check on securing the site where marijuana production or storage occurs.
GPS Security Group provides trained staff, ensuring a foolproof security strategy to minimize your premises' risks. To get in touch with us, click here.