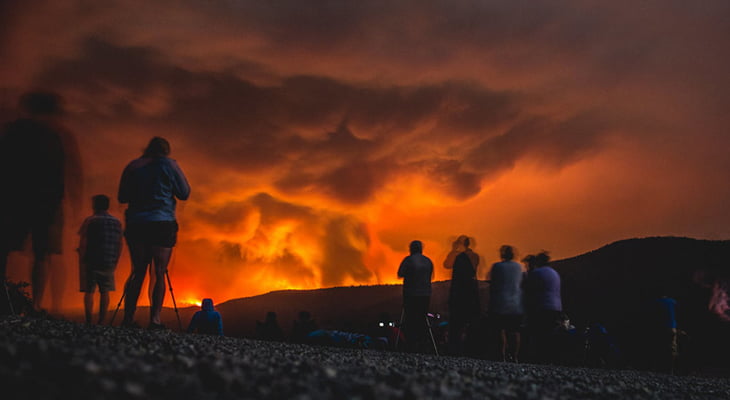 Today, it's essential to have proper fire watch mechanisms in place at your premises. Many modern buildings are equipped with indispensable fire safety alarms to prevent adverse effects of disastrous fires. Many companies install fire alarms or auto fire extinguishers in their establishments to deal with potential fire-related hazards.
However, it has been observed that these fire preventative measures often become ineffective in overcoming burning disasters. What you need is an active fire watch security service at your disposal to deal with upcoming fire-related risks. This type of service is required in various places such as residential and commercial buildings, construction sites, industries and manufacturing factories, hospitals, and events and concerts.
Fire watch security is a must for any organization operating throughout western Canada which may be exposed to potential fire danger. The following are some of the benefits you can receive by utilizing professional fire watch security guard service in your area:
Adequate Protection From Fire Hazards
Fire watch service providers will protect both your property and your employees. They assure complete security through careful inspection of your building; these experts will point out the areas present in your commercial premises that are at high risk of catching fire. They also ensure safety from fire-related hazards by pointing out the materials present on your property that are increasingly flammable.
Continuous Patrolling And Monitoring
The fire watch security guards know about all the details about your property due to regular patrolling and guarding the premises. They offer around the clock on-site protection from fire for your industrial premises. Online tracking systems and patrolling are critical elements of the fire watch safety services. The fire-watch guards are always active and alert to avoid any fire risk inside the premises.
Valuable Alternative To Fire Systems
The fire watch safety guards know all the aspects of your commercial property due to their routine patrolling services. They are also well aware of all the safety exits present inside the building. They possess vast knowledge of utilizing different fire protection systems and equipment. In case the fire systems malfunction, the fire safety guards will make sure your workers and equipment remain secured.
Ensuring Safety Compliance
The fire watch security operatives are well-trained in monitoring and patrolling a specific or entire area of the building to ensure consistent safety and security compliance. They can provide a high quality of safety measures and function to protect the business from hefty fines. They lower the risk of a business shutdown by avoiding critical situations like a fire safety violation. They maintain fire security by keeping logs regularly to protect businesses from preventing negative publicity.
Providing Quick System Repairs
Our fire safety security guards not only maintain safety logs but are also well-versed in repairing the fire security systems in case they experience sudden malfunctions. They have enough knowledge and experience in handling a fully-equipped mechanism to restore any fire safety system. Experts from our security guard company can identify potential dangers and unexpected fire equipment failure in time to provide instant fire safety solutions.
GPS Security Group offers leading security solutions all throughout western Canada. We also provide our customers with a free-of-cost safety audit on all industrial and commercial premises. Visit our website or contact us now for customized client service.