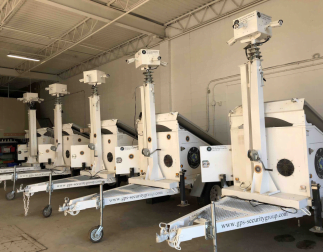 Security guards are considered to be all-around security providing personnel. Trained and professional security guards are known for their spontaneous and alert tactics of responding to unusual activities. But the only drawback with these professionals is that ultimately they are humans, and it is nearly impossible to keep an eye on all the parts of a property at once. If you have a large property or if you are organizing an event, employing mobile surveillance cameras can be beneficial. These surveillance systems are one step ahead of security cameras Calgary in several ways. Below is the list of some benefits of mobile surveillance units that you must know.
All-Around Surveillance
Security guards can petrol the entire property but cannot see everywhere and everything at once. In order to cover all angles and corners of a commercial space or event venue, a mobile surveillance unit can be helpful. Mobile surveillance units provide a bird's-eye, 360-degree view of the area as they have a 30-feet high pole with security cameras mounted on them. With the help of this all-around view, these smarter systems can record almost all the points of a property.
High Adaptability
People often feel that these units are only meant for events organized at large and open lots. This isn't entirely true. Mobile surveillance units are highly adaptable to different properties. These units are surely great for large gatherings such as concerts, seminars, sporting events, personal events such as marriages, parades, and other special events. But mobile trailers are also a great solution for commercial spaces such as warehouses and godowns. Not only this, but they are also perfect for short-term or temporary surveillance applications.
Crime Deterrence
Warehouses, manufacturing units, godowns and other larger spaces are stocked with valuable assets for most of the time. Theft or burglary can take place anytime during the day or night. But with a mobile surveillance unit on site, burglars and criminals can be kept away. These units have a 30-feet pole which is visible from a considerable distance to. And no smart criminal would want to intrude a property that is employed with such modern security features.
Self-Sustainable Option
Camera surveillance systems installed in a commercial space or installed in an event become useless if there is a power outage. This will make you vulnerable to unrecorded activities on the property. But this isn't the case when you have a mobile surveillance unit on site. The security cameras Calgary installed on these units or trailers are entirely self-sustaining, independent of your electricity or internet. The one offered by GPS Security is known as the 'MSU Hybrid' runs on solar energy. This means that you can always have surveillance and live monitoring.
Call GPS Security if you are planning to buy mobile surveillance units for your next event or to secure your commercial space. These units are one-step ahead of your helpful yet traditional security cameras in Calgary.