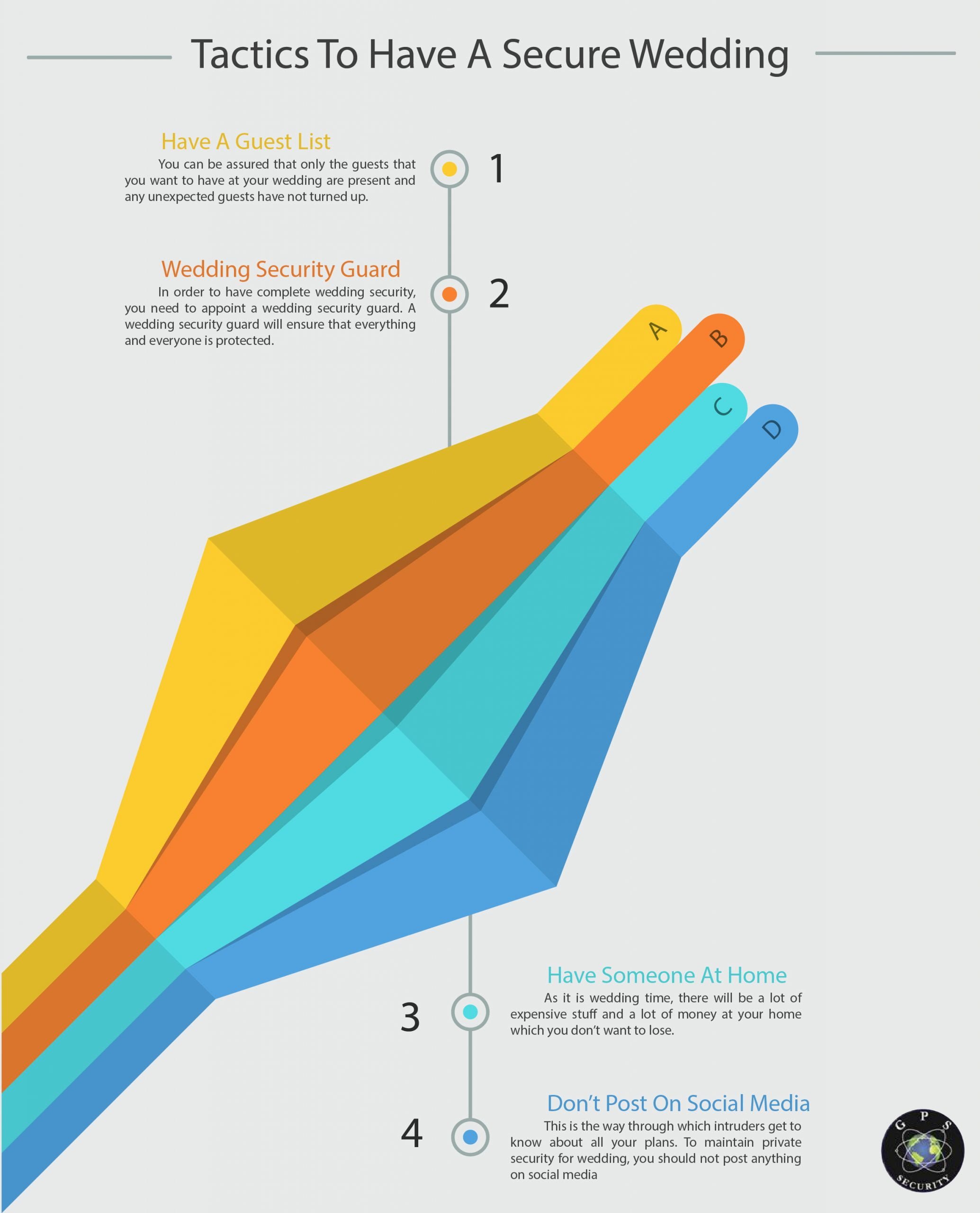 Your wedding is probably the most important occasion in your life. And you do not want this day to be spoiled because of anything or anyone. To ensure that everything goes well you need to do a lot of proper planning. To be stress-free and enjoy your wedding peacefully you have to make proper arrangements to keep all the thefts and risks away. Only then can you ensure complete wedding security. You can be prepared for anything that comes your way on your wedding day by following the easy tips mentioned here.
Have A Guest List
You can be assured that only the guests that you want to have at your wedding are present and any unexpected guests have not turned up. This will be the first step towards your wedding security. To check the guest list, you will have to appoint a wedding security guard at the entrance. A professional wedding security guard is better equipped to deal with all unwanted situations as compared to any layman standing to check the names on the guest list.
Wedding Security Guard
In order to have complete wedding security, you need to appoint a wedding security guard. A wedding security guard will ensure that everything and everyone is protected. If there is any problem, he will be able to tackle the situation right as he is trained to manage such situations in an efficient way. The wedding security guard can also conduct patrols to check for any illegal stuff happening. This will discourage anyone from doing anything wrong.
Have Someone At Home
It is a joyous day and every family member wants to be enjoying the wedding. Burglars are waiting to spot the house vacant and perform a robbery. As it is wedding time, there will be a lot of expensive stuff and a lot of money at your home which you don't want to lose. To ensure that everything stays in place you should appoint a guard who will take care of your home and its valuables. This can work as your private security for wedding.
Do Not Post On Social Media
This is the way through which intruders get to know about all your plans. Social website updates might put you and your wedding security in trouble. To maintain private security for wedding, you should not post anything on social media. For example, your ex might get to know about your marriage and land up at your wedding venue creating unnecessary problems.
Along with all the other planning, wedding security should also be taken into consideration as it is a complete necessity. Following the above-mentioned steps, you will be able to enjoy your wedding in a safe way.