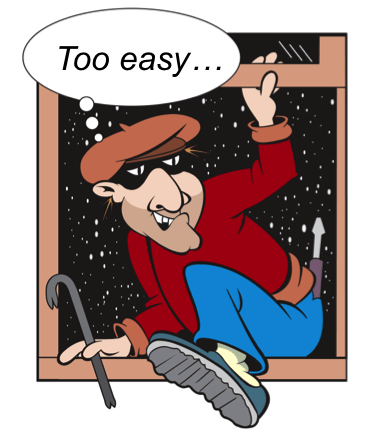 One of the most common ways to break into a home is through the door and the windows. We often overlook the security aspect of windows because we do want them to look beautiful, but with the increasing rates of robberies, it has become necessary for homeowners to secure their homes in a way that will prevent burglars from even coming close. Here are some great ways to burglar proof your window glass and ensure home security.
Add window bars
You can make your windows burglar resistant by adding iron bars on them. Even if the thief smashes through the glass, it will be impossible for him to squeeze through the bars into your home. However, many people do not like the idea of window bars as they make the house look more like a prison than a home. If the option of getting window bars appeals you, you can get decorative window bars that can be customized to fit your home's style. This will make your windows look absolutely beautiful while burglar proofing them.
Install window locks
Many windows come with locks that are pre-installed. You might want to change these locks. These locks are not very safe as burglars have the master keys to such locks. So, you should replace these locks with new ones to add a little more to your home security. You might want to position these locks at places where intruders will not be able to see them but, if they are visible from outside the intruders might not try to break-in at all.
Use tinted or reflective glass
Most of the times, before attempting to break into a home, burglars would look through large windows to see if that home is worth robbing. If you have tinted or reflective glass on your windows it would become a burglar proof window glass as it will keep the intruder guessing and discourage him from getting in.
Place alerting items close to your windows
You should place items close to your windows that topple over and make a loud noise when touched or stepped upon. The noise from those objects will alert you in case a burglar tries to enter your house through the window. Hence, this can be a great way of burglar proofing your window glass.
Connect security alarms to windows
Most of the times, you connect security alarms only to your doors. This is a big mistake as burglars rather consider entering from windows than the doors. So, it will be a better call to connect your security alarm system to your windows as well. Whenever a home is tried to break into through the window, the alarm will go off, sending the burglar into a tizzy retreat. This will be a great step in burglar proofing your windows.
These are some ways in which you can burglar proof window glass. If you put all of the above measures in place, you will be able to prevent burglar entries into your home through windows.